Corporate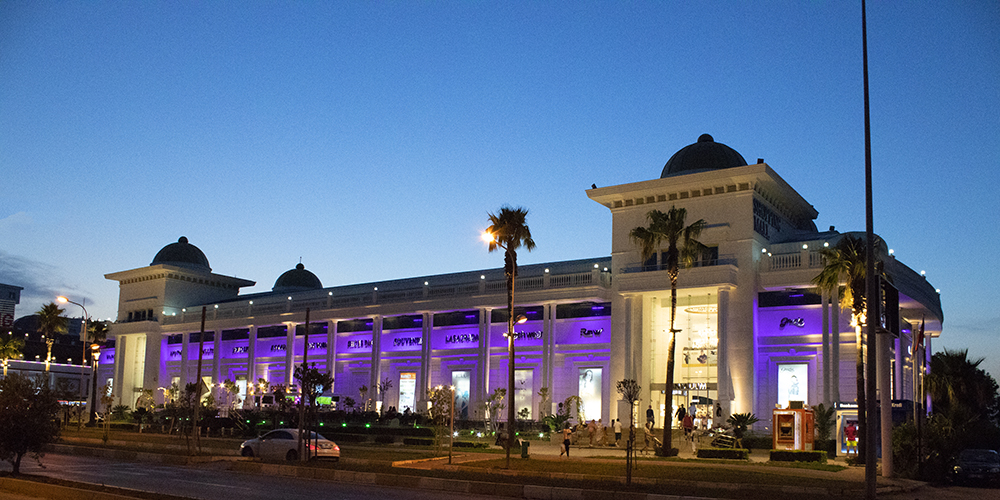 Antalium AVM Premium Mall
Antalium Premium Mall was opened in 2008 with Mega Star Tarkan.

Antalium Premium Mall is located on the coast way of Kundu-Belek, close to the airport, 12km away. It is very close to the sea and 500m away from the city. Approximately 60 5-Star Hotels are in the area of Antalium Premium Mall in Kundu.

Antalium Premium Mall has been awarded for its architectural design with a 5-star hotel appearance on an area of 16.000m² and for its magnificent shopping center which has many world famous brands in it and has been launched as the most prestigious shopping center of the Mediterranean. There are two cafes inside and outside. Outside café serves hookah and bar with match broadcasts projection. Inside the Antalium AVM, which includes a grocery store, offers VIP service, free Wifi, children's club, babysitting rooms and outdoor parking.

Every year Fashion TV organizes at the Mall an opening night for the "Hello Summer "party. On this event the world's famous.
Our Mission
You are above the standards. It is in Antalium Premium Mall ...

We dreamed of heaven for those who offer quality. For those who criticize the joy of shopping with quality, we have moved on the broad horizons of creativity. We dreamed of a shopping city in the center of heaven for those at the center of quality. All the details that make this dream come true have been prepared for you.

First of all, we chose the most special place that will keep this huge shopping city alive. The location should have been the focal point of not only urban tourism but also world tourism. It should be easy to reach with its proximity to the city center and airport. It should have experienced the unique natural beauties of the Mediterranean at the same temperature in four seasons, added stars to its quality and name, and be located on the shores of elite holiday villages and hotels. It should have added to the spirit of the metropolitan, the birds chirping of the lush green forest surrounding the sea, the sun and its unique beach. We determined the venue by considering all these criteria. Lara Kundu; a unique world that attracts the eyes of world tourism and entices organizations that have branded their successful careers with their innovative initiatives. Antalium Premium expects to host approximately 2,000 customers a day with high service quality.

It offers contemporary solutions to all your needs with its eye-catching architecture and sophisticated interior, perfect building automation, energy saving, fire alarm and extinguishing, special security systems, year-round air conditioning devices and continuous music broadcast.